About Us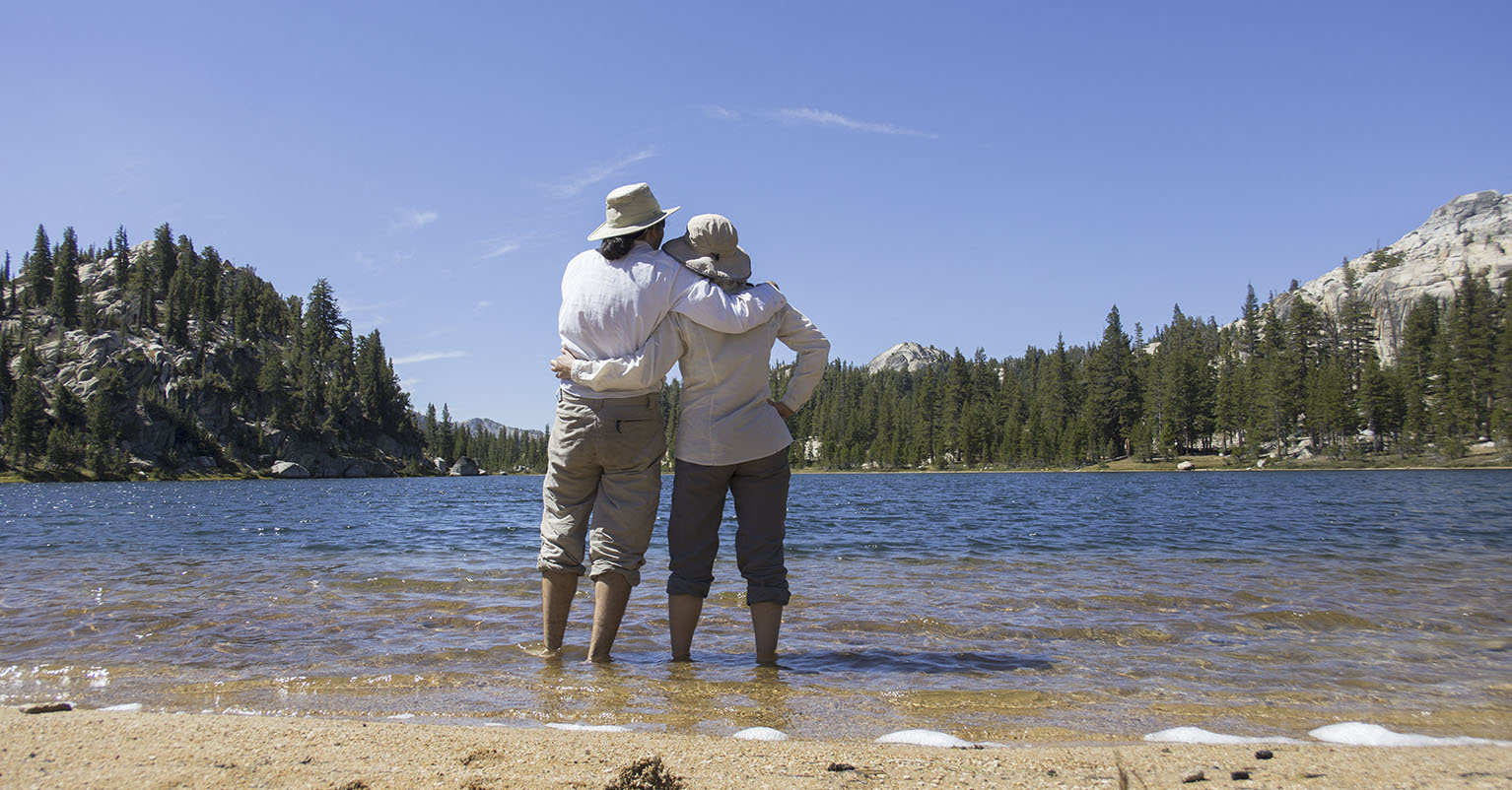 This is us...
Who we are doesn't matter much. We're a couple living in the Los Angeles area, having moved here from Europe quite a while ago. We've been camping and hiking at some degree for most of our lives, but got into "serious" backpacking only in 2009. On our first trips, our packs weighed at least 50 pounds each. After having learned the lesson the hard way, we researched lightweight equipment, and over the years, we developed our own comfort zone in weight, from the "big three" to food, clothing and luxury items. We're not what you'd call true ultralighters, but we're happy with what we achieved.
I had a serious bone illness when I was a child and never thought I'll be able to hike more than a few miles a day without serious pain. Em, my dear wife, had her own problems she needed to overcome.
Right now, we hike around 500 miles each year and spend 20-30 nights in the backcountry. Our base pack is below 15 pounds and even at the beginning of a weeklong trip with lots of food, two bear canisters, water and photo equipment, I never carry more than 32-33 pounds and Em never carries more than 28-30.
We both have flexible work schedules, but we're not well off by any means. It's our choice to work for a living rather than the other way around.
I started this site for two reasons (well, three). One, I'm eternally grateful for all those people who share trip info, photos, gear reviews and tips on the internet. The amount of information and the ease of finding it changed everything. In the last decade or so, this took trekking, hiking and mountaineering literarily into another dimension. We'd like to contribute to this well. Two, other people kept bugging us to share our experiences, so we finally obliged. Three, my job is making websites.
The text is mostly written by me (Steven), photos are by both of us. If you find any mistakes as far as place names, trail distances or elevations go, please contact me and point out the error. Or course, feel free to shoot me an email for any other reason, too.
Take a look at the trip reports and photo galleries to follow our journey.
"For all its material advantages, the sedentary life has left us edgy, unfulfilled. Even after 400 generations in villages and cities, we haven't forgotten. The open road still softly calls, like a nearly forgotten song of childhood. We invest far-off places with a certain romance..." – Carl Sagan, Pale Blue Dot
In today's stupid, paranoid world I have to state the following: all information on this site is for entertainment purposes only and author does not assume any responsibility for its accuracy. You are responsible for your own safety and to research trail conditions, permits, and other factors that may influence your trip.
Also, full disclosure: I write all the reviews on my own accord. The companies featured do not give us any free products, discounts or other consideration in exchange.

All text and pictures © 2023 yourownhike.com. All rights reserved.