Intro
Well, as they say, making mistakes is one thing, but no to learn from them is the worst you can do. After being completely, insanely irresponsible on our trip to Mineral King in July 2010, and suffering the consequences, we finally started looking into lightweight equipment, and by the end of March 2011, we acquired quite a few nice items: Golite backpacks, down jackets and harshell rain jackets, matrasses, a stove, and some other items — all in the ultralight category. Our base pack weight just got to a quarter of what it used to be. AMongst other things, we still had the light, but crappy $20 Big Five "backcountry" tent, and the two synthetic-filled sleeping bags we got were not the lightest, so I was fully aware that there's very much room to improve, but this would have to do it for a quick test. We already reserved a permit for June to go up to Twin Lakes in the Sequoias, the place where we foolishly tried to day-hike in 2009.
If anyone remembers, 2010 was a very high snow year, pretty much the last since then, and going anywhere in the mountains in April was completely out of the question, so we decided on a short trip in Joshua Tree. We love that place anyway, and doing a bit of backcountry hiking there seemed like a good idea.
There is no permit system in place, you have to park at a backcountry registration board (there are several, they are marked on the official parks maps and here's the list), fill out the paper and then walk into the wilderness.
Day 1 - L.A. to Josuha Tree N.P. and into the Pine City wilderness area
We selected Pine City, as we've been to the trailhead before and we knew it's an easy hike to the spot where we could camp. Of course, there's absolutely no water around, so we knew we had to carry everything. We each had a full gallon of water in our packs, but I didn't bring any photo equipment, other than a small compact, and with all the new gear, the packs felt much, much lighter than our old setup. The new, frameless Golite packs felt very weird, we needed some time to figure out how to pack them, but they turned out perfect.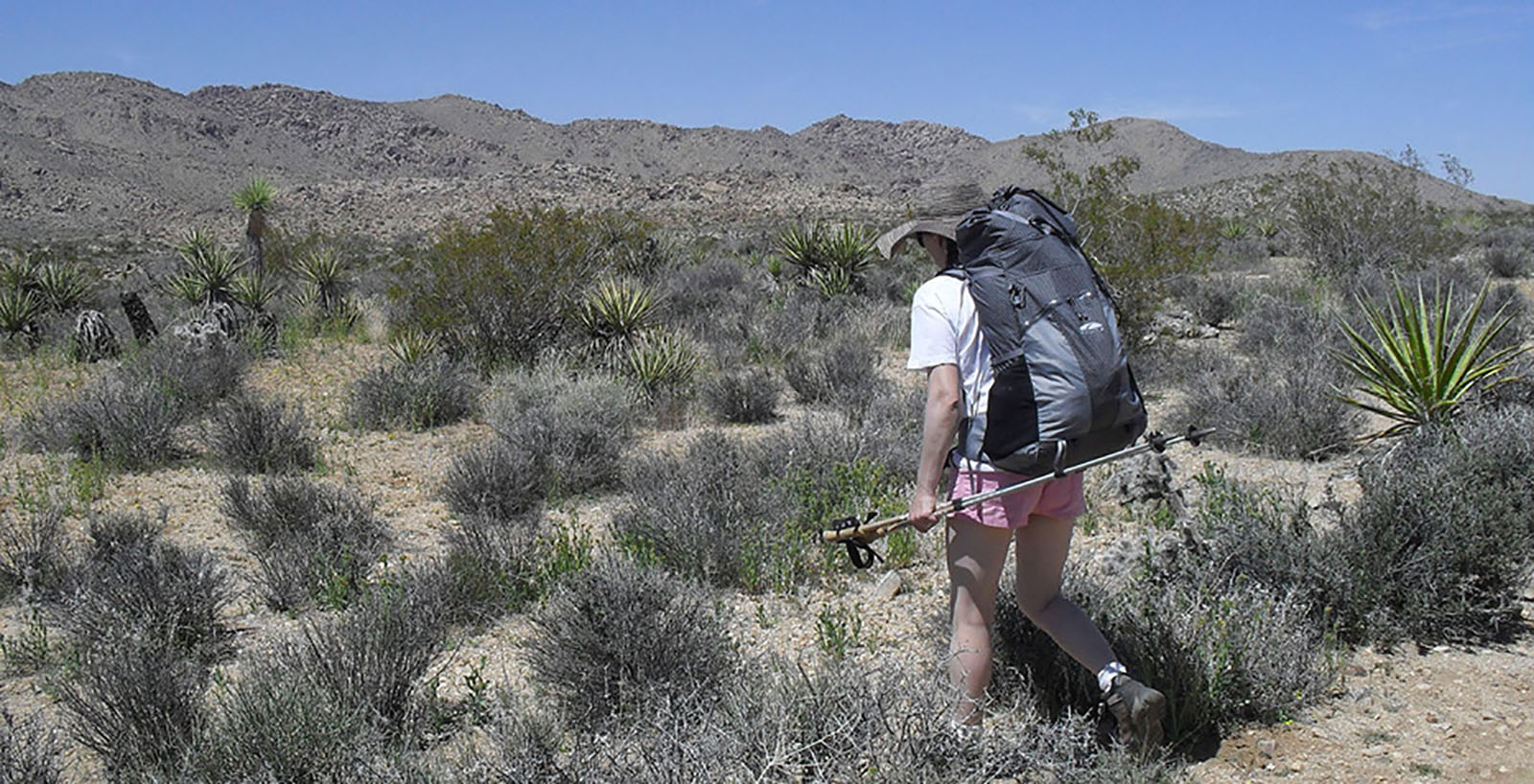 Em going off-trail to explore something.
After leaving the car at the trailhead, we started hiking a into the desert on the very nice, level trail towards a spot where some pine trees are and the trail effectively dead-ends in a ravine. Many cacti were blooming, the weather was warm, but not too hot, and we had a great time. After hiking a whooping 2.5 miles, before getting to actual Pine City, we found a very faint, almost non-existent spur that took us off the main trail between the huge boulders into a dry river wash. It was a very cool-looking and secluded place, so we decided to set up camp here.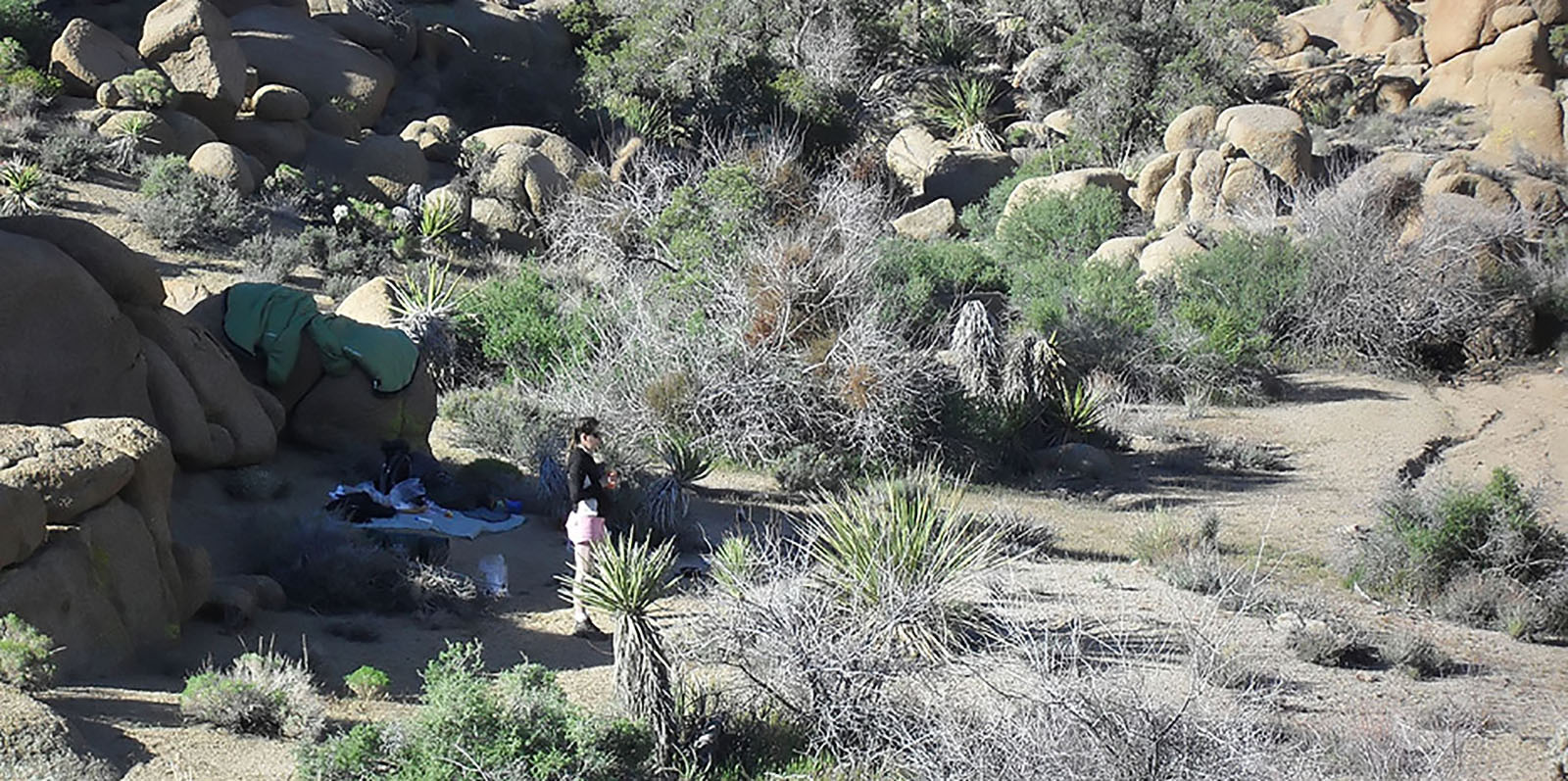 Our campsite in the ravine.
Now, I know you're not supposed to put your tent in a wash, because if there's a storm, you could be in serious trouble. However, there was absolutely zero chance of rain in the forecast for the next week, we were going to stay only one night, and most importantly, we selected the spot that was on the side of the wash, more than a foot higher than the lowest part. I felt pretty confident that if a suprise storm came, we'd have ample time to get ouf of there.
We pitched the tent, then left most of the gear and went for a walk, visiting Pine City and the surrounding area. In the evening, we sat around the tent, enjoyed the fantastic weather and eat some great food with our new equipment. The almost-full moon was out in full force, and it was really magical. This environment is so different from where we grew up (oak and pine forests, mostly), it felt like we're on a different planet.
After a quiet and restful night, we packed up, and giddy with joy about how light our packs felt — especially with most of the water gone — we hiked back to the car, and after dropping by in Thermal for some dates, we drove back to L.A. By the way, stopping for dates in Thermal at Oasis Date Gardens is well out of the way, but it's worth it. Besides the dates, the drive from the south entrance of the park through Box Canyon and Mecca to Thermal is a trip in itself. Nowadays, we often do it the other way aorund: pick up dates first, then drive to the park. Important note: fill up your car in Thermal or Mecca, there's no gas between there and 29 Palms.
Check out the full gallery.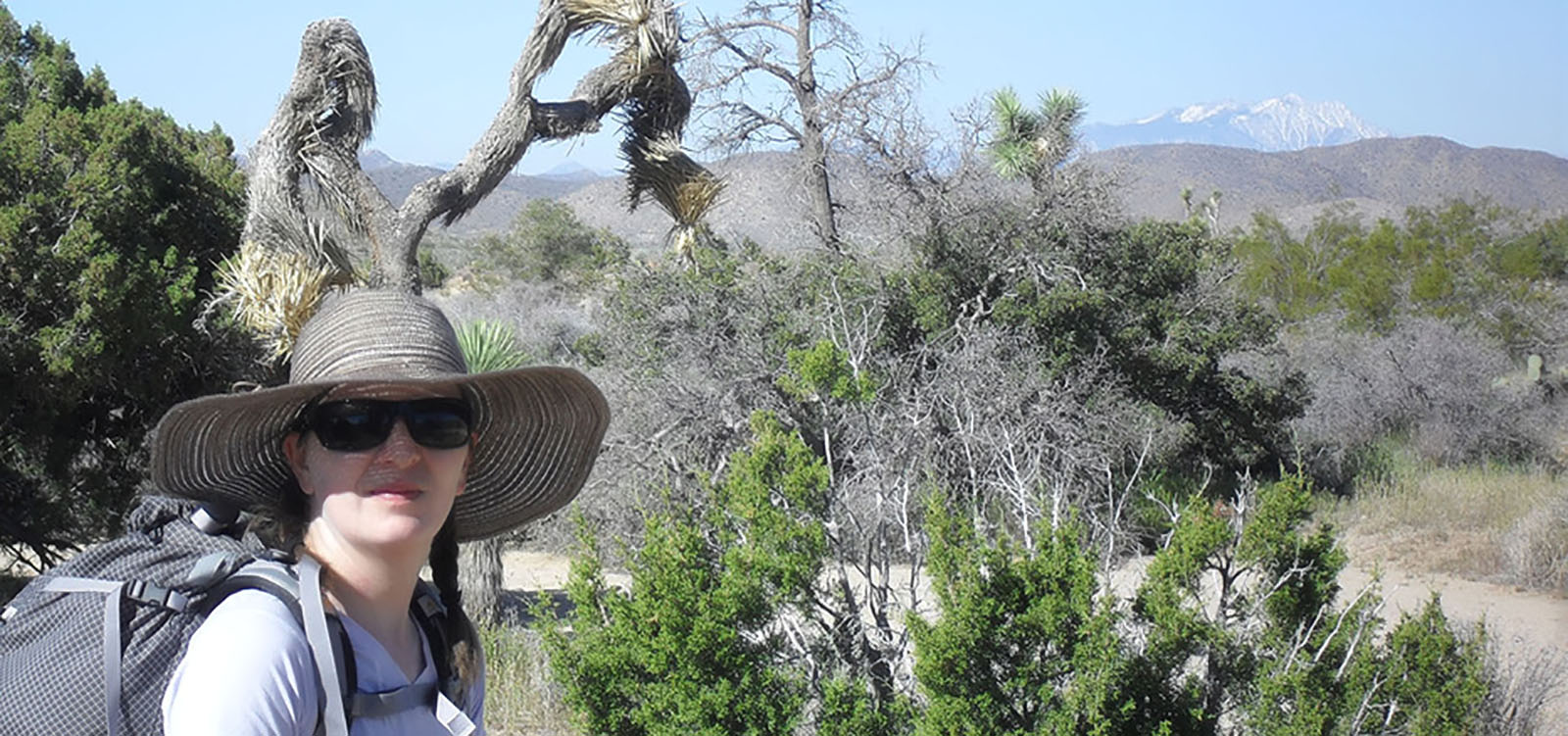 Em and snow-covered San Gorgonio in the distance